In what seems the blink of an eye, Celia Cruz has been a member at Dogtown for 8 years. A thoughtful, quiet, hard worker in the gym she helps set the standard as a member for commitment to movement standards and consistency in workouts! We love having as a part of the family.
Coach Dusty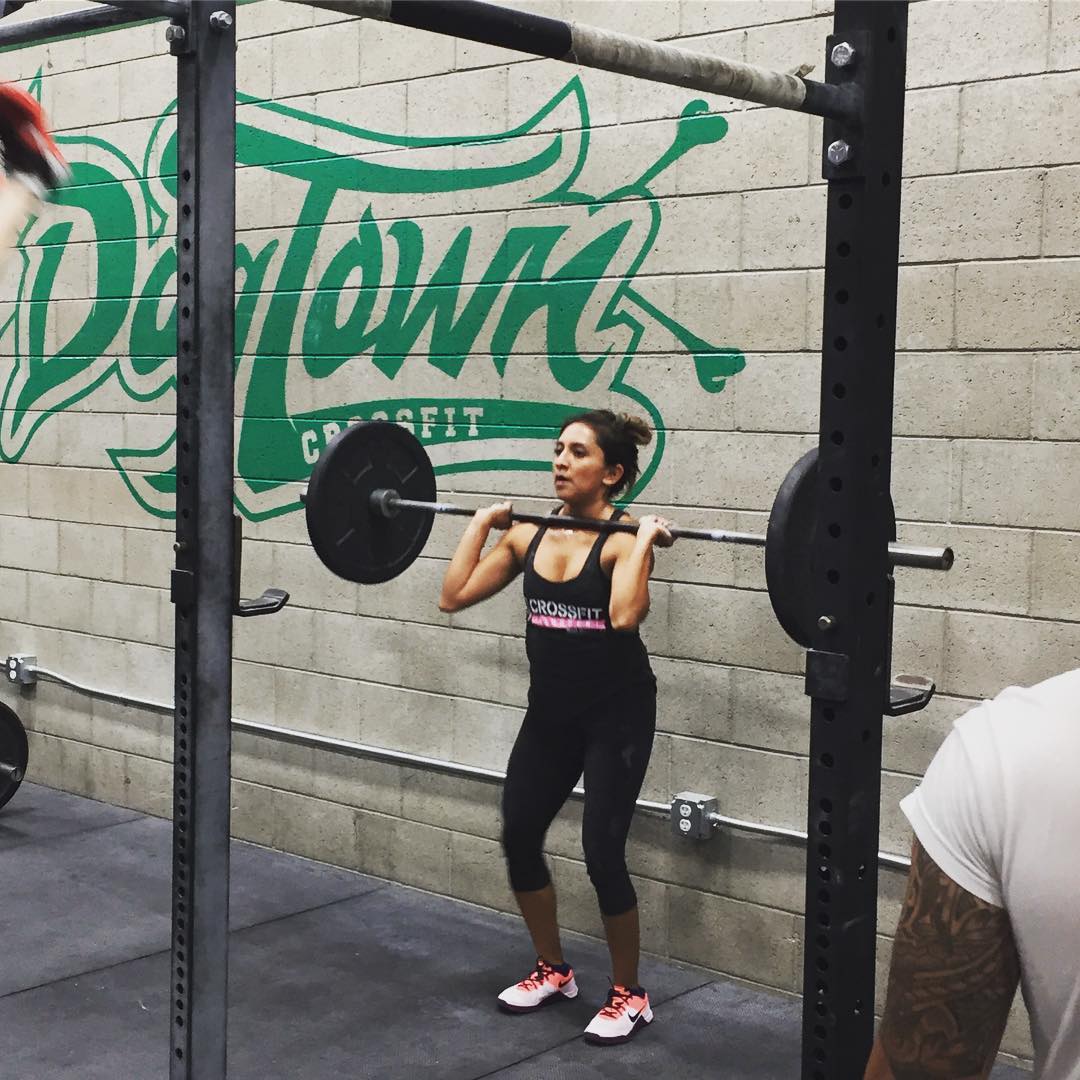 Q: What was your health and fitness like prior to CrossFit?
Looking back it wasn't really a priority in my life. I mostly ran on the treadmill a few days a week. However, my secret obsession was the Gunnar Peterson "Core Secrets" DVDs featuring Brooke Burke. Not sure if anyone remembers those or her, ha!

Q: How long have you been doing CrossFit and what inspired you to start?
I would drive by the old location when it first popped up and always wondered what went on behind those windows. It wasn't until I met Elda that we both dared to try it out together. We loved it and signed up January 2011, 8.5 years ago! It's so funny because, in the beginning, we were so intimidated, we would only go to class after confirming the other one was going to be there. How far we've come.

Q: What are your favorite movements and workouts and what are your least favorite?
Favorites, I love squats, burpees, deadlifts, and pretty much everything else except for what follows. I hate wall balls, haven't figured out the breathing and there's nothing I can do about the vertical challenge. Rowing is ok. I'm not a fan of snatches in workouts.

Q: What is one of your most proud CrossFit moments and what is one of your more embarrassing ones?
Anytime a fellow member says they tried keeping up with me or that I did well on a workout makes me happy. There are so many movements I've learned and gotten better at. I've thought, "Oh, I hadn't been able to do that, but now I can," I count those as accomplishments. Nothing embarrassing so far, fingers crossed.


Q: What are your CrossFit goals?
Overall, my goals are to stay active, keep moving, and prevent injury. I don't set specific gym goals. If you have patience, take no short cuts, work hard, stay consistent; naturally things get checked off "the list."
Q: You are an Energizer Bunny during workouts. What's your secret sauce for being able to move so fast and efficiently during metcons?
I like to pace myself from the beginning, and then once I find a groove, I know how much I can push myself the rest of the workout. Breathing is also essential so I make sure to concentrate on it, especially when I feel like I'm hitting a wall. It's one of the things I have noticed makes a difference in workouts.
Q: With a demanding work schedule, you always find time to still get workouts in. How do you stay so disciplined?
I make time to fit it in because I see all the benefits it provides. It helps me relieve the stress of dealing with parents and gives me the energy to keep up with the kids. It keeps me sane, so it doesn't feel like a chore.
Q: Any advice you can give to a newbie at DogTown?
Don't be intimidated! You are showing up all by yourself, that's more than I did in the beginning. Just keep coming, you will slowly start enjoying it and having fun!
Q: What have been the most surprising changes in yourself that you have experienced since starting at DogTown?
My taste buds. Let me explain. Nutrition is a subject that unfortunately was not emphasized in medical school. While at DogTown being exposed to meal prep, nutrition challenges, and food delivery services, forced me to get educated on the subject. I won't go as far as saying that food is only fuel because I do love food, but I do find myself enjoying the taste of healthy food. It supports my workout performance and enhances the results of my hard work in the gym. Maybe it's discipline, but perhaps it's just my brain tricking my taste buds (since it knows better) that nutritious is enjoyable. Whatever works.
Q: What 2 things can you share with our DogTown family that they may not know about you?
I never played recreational or competitive sports growing up. I know it's hard to believe! The last few years I've made sure to make up for that. I've picked up ice skating, tennis, skiing and now can say I enjoy swimming (had a traumatic sink or swim childhood experience). It's never too late to learn new things and step out of your comfort zone! I think DogTown had a lot do with that. Also, some may not know that I'm a pediatrician, which explains some of the answers above. Make sure you eat your veggies and get your sleep kiddos!