Crush Cancer 2015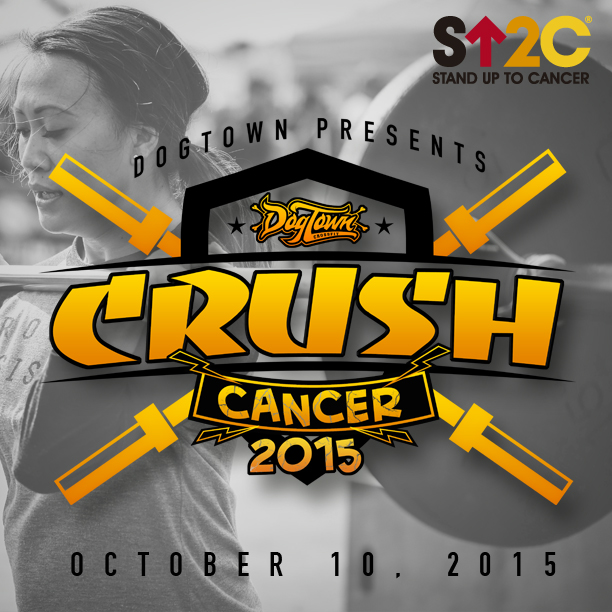 Stand Up and join us in the 5th Annual 2015 Crush Cancer event that benefits Stand Up To Cancer's collaborative cancer research! This year, the main Crush Cancer event will be held in Culver City, California, on Saturday, October 10th. In addition, gyms from across the country and around the world will be hosting their own events - all with the goal of raising as much money as possible for Stand Up To Cancer.
Crush Cancer is an endurance fundraising event and health expo where participants must raise $150 in order to participate. This circuit-training-style workout includes five different exercises, and participants are encouraged to perform as many reps possible for one minute per exercise. They then get one minute of rest and repeat the workout two more times. The health expo is open all day and features food trucks and businesses - as well as the biggest brands in the endurance workout space.
Crush Cancer has raised over $640,000 in the past 4 years and gyms from across the U.S. (from Denver to Boston) and the world (from Dubai to the UK) have participated and now it is your turn to get involved!
Donate and Sign up at Crowdwise: https://www.crowdrise.com/CrushCancer2015
Purchase your Official Crush Cancer Merchandise From Livesore: http://livesore.net/product/crushcancer
Check out the videos from our past events!
2014: https://www.youtube.com/watch?v=-EL1zOOhP64
2013: https://www.youtube.com/watch?v=9321DD_3gVQ
2012: https://www.youtube.com/watch?v=zkTsnF4A-FY